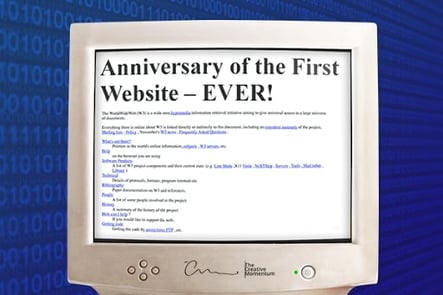 August 6th marks the anniversary of the very first website. Published in 1991, the world's first public website began a total overhaul of the way we live our lives. Sir Tim Berners-Lee probably didn't imagine how the World Wide Web would impact us socially, nor in business, politics, retailers, banking or healthcare. An entire industry – web design & web development – were born on August 6th, 1991.
Berners-Lee was a scientist at CERN, a physics laboratory. He envisioned making communication instantaneous between scientists and universities, created the World Wide Web and shared instructions on how to use it on the first website. It was simple text and definitely a far cry from what we have come to expect in UI/UX.
From HTML to blogging to landing pages to search engines – times have changed quickly.
The Creative Momentum staff has some fun and looks back at the history of the Internet, telling us about their most memorable experiences.
August 6th, 1991 – First public
website
published
August 7th, 1991 – Gopher introduced as the first search engine
"Shortly after using HTTP and the first search tool, Gopher, at Georgia Tech, I changed my Major from Textile Engineering to Computer Science." – Michael Clark, Solutions Architect
1994 – Amazon is founded
Jeff Bezos, Amazon's founder, knew his vision for Amazon early on, picturing an "everything store." In its earliest iteration, a bell would ring in an office every time an order was placed, alerting the office staff. Orders came in so quickly that it was eventually turned off.
1995 – Audible and eBay are founded and mp3 audio file introduced
"The first time I experienced the internet I thought frozen in awe, 'Wow, I have the world's information at my fingertips … now what?'" – Chevis Patterson, Senior Software Engineer
1996 – Email surpasses postal mail
"In the early 90's, UX began to apply to websites as more and more people started using the Internet to simplify their daily lives. Web design best practices are based entirely on creating a clean, easy-to-navigate experience because so much of our life is managed on the Internet." – Carl Widdowson, CEO
1998 – First blogs appear and Google is founded
"I used the Internet for school at first and then AOL instant messaging. It was the first time I could connect with my friends online. It's crazy thinking about how quickly we receive information now and remembering how AOL would cut out when someone in your house picked up the phone." – Wendy Rogers, Project Manager
1999 –
Mozilla Project helps legitimize Open Source Internet application clients.
1999 – Craigslist and Napster founded
Classified ads were introduced to the Internet and Craigslist now has 50 billion page views per month. Napster, the pioneer of peer-to-peer file sharing, allowing us to share music freely. Two years later, Napster shut down due to the unauthorized distribution of material.
2001 – Wikipedia and iTunes founded
"After a month of using the Internet, I had a sudden realization that the Internet would eventually change the way we access our information on a day-to-day basis." – Mihai Slujitoru, Front-End Developer
2004 – Facebook founded and podcasts become mainstream
"A friend told me I should sign up for Facebook. I hadn't heard of it and you could only get an account using your university email address. I don't think I logged into it for two years. Now I use it to keep up with anyone more than 30 minutes away from me. In fact, I would say it probably decreased the amount of time I physically spend in someone's company." – Janice Wood, Marketing Manager
"I remember when Apple's iPhone was still a rumor. My classmates and I drew up possible prototypes in our design class. Every single design mock-up had the iPod Click Wheel. Kids now probably don't even know what the iPod Click Wheel looks like." – Michael Yang, SEO Manager
2008 – 55% of US Population says
they used the Internet
to research the Presidential election
2009 – Twitter raises $98 million in
investment capital
2013 – More than half of all Americans bank online
2016 – Shopping on mobile devices surpasses in-store retail sales
"My Industrial Design degree from Georgia Tech focused on human interaction. I knew I wanted to make "things" usable, accessible and delightful. As time went on, more and more "things" were online and the concept of the online user experience was a natural progression from what I was already focused on doing." – Molly McCarthy, Senior Designer
Without that first website, The Creative Momentum wouldn't exist. So thanks to Berners-Lee for launching an industry. We love what we do.
The Creative Momentum is an award-winning, nationally-ranked digital marketing agency, specializing in web design, web development, SEO, PPC and inbound marketing. Atlanta Business Chronicle has named us one of the fastest growing privately held companies in Atlanta – three years in a row. Check out our work!