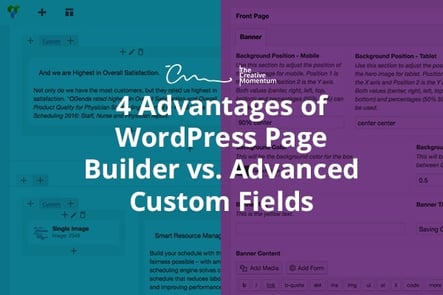 When it comes to keeping up with your custom WordPress site, there are different ways to manage and update content. WordPress offers the flexibility of allowing developers to give marketers different levels of control on how the content can be managed.
Advanced Custom Fields
Marketers want to get their hands dirty without having to involve a developer every time text and images need to be updated. ACF makes it simple to allow marketers or even interns with little content management system experience to make updates to a page, use repeatable blocks and modules or even build a new page on a pre-built template. It is great for marketing teams that need to change out existing content without affecting the broader layout.
It is always a plus if they have access to a development team to make layout changes or build new pages seamlessly, while laying the page out how the marketing manager wants it. But a development team is not always on staff.
What if a company has a marketing team but has to hire a development team just to support page update efforts? Sounds expensive right? Shouldn't a content editor have the capability of changing layout to accommodate new content? For instance, if the page has been built out to have 3 products in 1 row, how do you add a fourth product and keep it to 1 row? What if we had control over structural and layout updates, animations and parallax without having to write one line of code?
That is where page builder plugins such as Visual Composer come in handy.
Visual Composer
If a developer builds a website using Visual Composer correctly, it can transform a marketing intern into a coffee-drinking developer in no time. They do not even have to know how to write one line of code. Of course, it is a plus to know HTML and CSS to gain a better understanding of layout and styling. But Visual Composer gives the content editor the ability to update content, layout and styling using drag and drop functionality. It even goes as far as letting you control how each module/row on the page appears on tablet and mobile.
Templates
This powerful page builder plugin allows you to create pages or even sections on a page as templates so that you can reuse on another page seamlessly. For instance, you can save a testimonial carousel on the About page as a template to be reused on the Careers page, if needed.
Drag and Drop
This feature gives marketers the ability to change layout structure as well as positioning of sections. Using the drag and drop feature, you can turn a 3-column section into a 4-column, drag sections up or down, swap column 2 with column 1 and much more.
Elements and Add Ons
Visual Composer comes built in with many elements and add-ons that you can reuse without having a developer build it for you. Let's say that 3 of the most recent blog posts need to appear on the home page. Just add a blog post element and tell that element to show the 3 most recent posts. It will dynamically display those posts accordingly. Again, without having to write one line of code.
This by no means showcases all the capabilities of Visual Composer, but we do think that the features mentioned above are enough to convince a client or marketing manager that they need this powerful plugin to get the job done. The main takeaway here is that Visual Composer allows you to make structural and layout changes without heavy knowledge of HTML and CSS, while ACF gives you basic capabilities to update content. Hopefully, the breakdown of both of these plugins serves as a guide for which is best for you to make updates to your WordPress site.