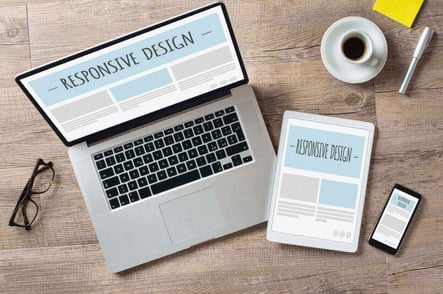 With the number of mobile internet use overtaking desktop users, it is more important than ever to use a Responsive Web Design (RWD) layout on your site. Having a site that is optimized for RWD doesn't mean just creating a mobile-friendly site; it means optimizing sites for various portable devices, such as the iPad, iPhone, Android devices, and various other platforms.
Having a website that is designed solely for desktop use can drive away a large portion of potential customers, which could seriously impact your sales. Some people would rather look elsewhere to find a site that they can use from any device, rather than hop on their desktop PC to make a purchase from your site. Moreover, sites that aren't optimized for RWD could be negatively affected by Google's Panda algorithm.
Going RWD Will Put You Ahead
There is probably a portion of your user base that uses a mobile device to access your site every day, and this base is projected to grow each year. The most important things to consider are convenience and comfort. You want to have a site that gives your customers everything they need, including accessibility, so that they don't look elsewhere for similar services.
Creating an RWD platform is about accommodation and accessibility. Consider having a mobile-first design that addresses the needs of customers on mobile devices over desktop users. Additionally, you should also work with fonts that all devices support so that the site is easier to read and navigate.
Pitfalls to Avoid
Having a site layout that is annoying and inefficient can put off most customers, which will negatively impact your conversion rate. Here are some things to avoid in order to optimize your RWD website:
1. Videos and sound clips that autoplay
Going to a site that plays sounds and videos can drive customers away. Not only is it annoying, but it can slow down older computers and devices, and make it difficult for people with slow internet connections to browse your site.
2. Broken-up content
No one wants to read an article that is broken up into two or more pages. Write a full page, regardless of length, and break it up into paragraphs with proper headings.
3. Flash Player
Flash is on its way out. It's not supported by iOS devices, and Google is working to phase it out. Use HTML5 as a working alternative.
Responsive Web Design Is Being More Inclusive
The principle of RWD is to create websites that take the needs of every customer into account. RWD techniques are used to ensure that all users, regardless of their device or operating system, get the same browsing experience. Providing everyone with high-quality access to your site will include more customers, which can boost your conversion rates.