Augmented Reality, first appearing in Hollywood in the 1980s, has been depicted as a flashy technology for the wildly wealthy or a tool of destruction for an army of futuristic sci-fi aliens. In the course of 35 years, we have not found much use for AR outside of movies and video games.
Until recently. Augmented Reality is not sci-fi fantasy anymore. And one of the most meaningful uses for it is on the manufacturing plant floor.
Augmented Reality for Factory Efficiency
Atlanta-based mobile app vendor iQagent specializes in AR applications for manufacturing and industrial spaces. iQagent AR is completely altering the way employees interact with machines on the plant floor. Manufacturers use dozens of machines to build cars, brew beer, make purses – and all of those machines have to be maintained. Usually by another machine.

iQagent allows workers to point their mobile device camera at a piece of equipment and view live data, documents, workflow, instructional videos, or perhaps a data entry form or shift logs – displayed on their screen right next to the equipment.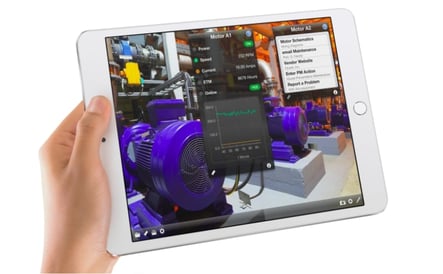 Each piece of equipment is connected to a Point-of-Interest – a QR code associated with the machine. A wealth of data, documents and videos can be accessed by the app, which uses the QR code as a unique identifier. Users can even pull up forms to submit repair requests or order new parts.
AR Condenses Resources
"Where is the instruction manual for this piece of equipment?"
On your mobile display, in a window that pops up and hovers right next to the machine. iQagent puts instructions right at the workers fingertips, eliminating paper manuals and risk of error. The application can point right at a screw the worker is trying to replace.
Placing data and resources in context of real world equipment can limit the need for highly skilled workers, making these positions available to less trained individuals.
Expensive hardware becomes obsolete quickly. iQagent's key differentiator is that it is not tied to proprietary hardware. It is an app that lives in the cloud or on an in-house server and can integrate with almost any device we are already using.
Other companies like Siemens, Rockwell, Honeywell, Wonderwear and Illusion play in their own space. In other words – their hardware, their software. Having untethered software allows
innovation because developers are focusing on the flexibility of the application.
Software Development for AR
Don Hanson, Director of Development for The Creative Momentum, has been working with iQagent and advancing the app with added functionality and a beautiful user interface. iQagent is supported by technology most of us already have, from iPhones and iPads to Android devices. Additional devices include wearables like Microsoft's Hololens and RealWear.
The UI developed by The Creative Momentum scales across all screen sizes and devices. The architecture underneath was simplified and boiled down to 75% fewer pages, converting it to a single-page application.
Additional work included migrating data access to entity framework, which allows the app to use multiple backend databases, depending on the environment users need to run it in.
"By the end of 2018, there will be more wearables on the market and because of the work The Creative Momentum has done, we can hit the whole gamut. If you don't have "the right" hardware, we can work with any system." ~ Bob Meads, CEO and Founder, iQagent
If you're interesting in learning more about our software development or mobile app solutions, contact us today.