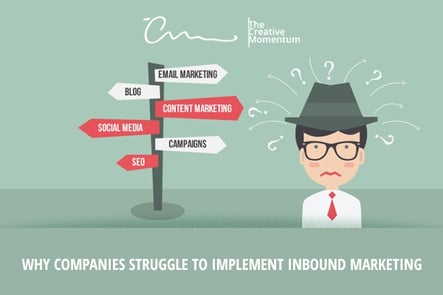 Unless you're new to the field of digital marketing, you've probably noticed that inbound marketing is a hot topic in the industry. More companies are moving away from the traditional, invasive marketing techniques and adopting a strategy that attracts people to them, not the other way around.
Here are some of the common challenges that businesses face when preparing for their first inbound marketing campaign:
Problem: Many smaller companies don't have the necessary time and expertise to come up with attention-grabbing blog posts.
Solution:

Coming up with meaningful content that attracts attention and boosts website traffic isn't as easy as it sounds. A lot of planning and content writing goes into making sites inbound-ready, and smaller companies seldom have the manpower to do that. This demand has created a surge in inbound marketing agencies who specialize in helping businesses implement successful inbound marketing strategies through blogging, social media engagement, and site optimization.
Problem: The content isn't resonating with their target audience.
Solution:

Finding the right audience to target your services to can be tough, but it's an important part of any successful marketing campaign. Whether you're providing a service to a national or international customer base, you're going to need to know how to reach them. This is why it's important for marketing teams to spend significant time

creating buyer personas

so that companies can better reach their target audiences.
Problem: Website traffic is down or leads aren't converting into sales.
Solution:

One of the hardest parts of inbound marketing is being able to consistently produce enough material to maintain a good SEO ranking. Fresh content

must be engaging and of excellent quality

, otherwise, your site's SEO rating is likely to take a hit and visitors could lose interest in your site. Companies that struggle to find the time to produce blog content and promote their websites should consider reaching out to agencies and freelance writers for assistance with developing content that attracts visitors and increases conversions. Sometimes all that is missing is a persuasive call-to-action.
Old Habits Die Hard
For some companies, adopting an inbound marketing approach for the first time presents quite the challenge. Not everyone understands the importance of organic marketing, and some marketing departments entrenched in the old ways may not know where to begin when adopting an inbound marketing strategy.
Your company's inbound marketing strategy is only as good as the website it's posted on. No matter how engaging and informative your content is, if you have a poorly designed landing page and a website that's not optimized for user experience (UX), you're not going to maximize your return on investment.
It's important to remember that inbound marketing is a process that takes a lot of time and effort. If your company is struggling to go inbound, don't ditch the idea altogether. Consult an inbound marketing agency instead. Ask how they can help you attract more visitors and turn those leads into sales.