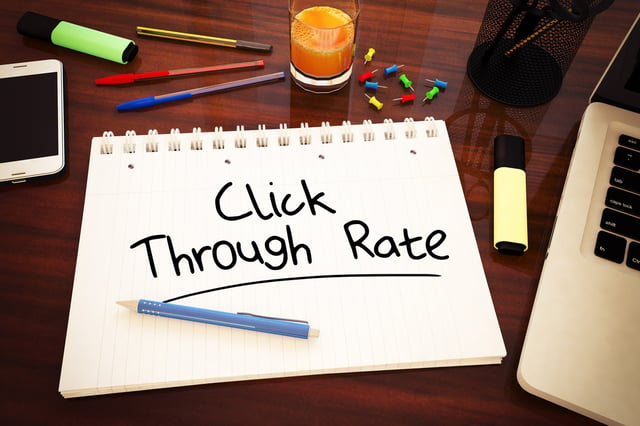 Organic clicks.
They're one of online marketing's holy grails: Increasing the number of clicks your links get without having to constantly dump money into costly pay-per-click campaigns. Raising click-through rates (CTR) is a common area of study for marketers, and there's plenty of debate on the best way to do it.
However, we don't think the process is as complicated as some make it out to be. For our own CTR optimization efforts, we follow a simple strategy that we'll outline below.
Choose a target
Your first step is to figure out what links to focus on.
Use analytic review tools (like Google Search Console) to track each site's current CTR against its page ranking. You'll notice that some of your links might be doing okay, while others are notoriously bad. (Unless, you know, they're all awful. In which case, you have plenty of work to do!) Target your lowest performing links first.
Don't neglect this essential first step. We've seen plenty of businesses fail to track which links actually need the most help and end up ripping apart their best performers, only to then scratch their heads over why their CTR optimization isn't working. Analytic tracking ensures you're focusing your attention where it's most needed.
Create headline options
Once you have a target, take the headline apart and assemble alternatives piece by piece. Your goal here is to optimize your link's headline to increase its position—a lofty goal that can only be accomplished when you know what strategies best engage readers.
This is where paid ads through providers like Google Adwords can go to work. But unlike the rest of those website owners out there who just mash ads together, slap them online, and call it a day, your ad campaign will be backed by strategy.
Create a variety of different headline options to be included in your ad campaign. The end goal is to build multiple headlines and pepper them across the net to see which gain the most traction. When you have this data, you'll know which headlines are winners for grabbing user attention, and you can derive strategies for future headline creation from your data.
Headline creation tips
When building ads, there are several tried-and-true headline creation strategies to leverage:
Numbered lists (20 Ways to Optimize SEO!)
Power words (Shocking SEO strategies! Bulletproof SEO for your site!)
Emotional triggers (Don't try SEO until you read this! Early warning signs of SEO failure!)
Consider these just a few options in your headline creation toolkit. There's no perfect recipe—which is exactly why you're cooking up a mix of options to test via ads. Remember the basics, but don't be afraid to experiment.
Don't forget those snippets
Of course, your link isn't only about your headline. Remember, most users also use page snippets to determine whether or not to click. Make sure your snippet content is high-impact and relevant to the title. Customize these snippets for each link to make sure readers understand the value you're offering. No matter how great your headline, if your snippet contains a useless chunk of text taken out of context (or worse yet, an incomprehensible jumble of characters and code) your users will be turned off and your CTR will tank.
Succeeding with CTR optimization
Organic CTR optimization is a function of your content, your headline ingenuity, and the effort you put in.
Always remember to test your links before making adjustments, test new headlines before applying them to your site, and don't be afraid to try new things. Excelling at CTR optimization can even boost your site's SERP outright. With both clicks and page ranking on the line, you have nothing to lose by working towards a stronger organic CTR.