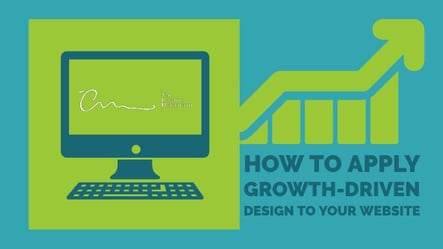 Website redesigns are an intimidating undertaking. Web designers understand that a successful website overhaul requires goal-oriented direction, realistic expectations, and plenty of patience. Emerging design strategies often take a back seat to tried-and-tested web design tactics, and as a result it's easy for business owners to approach a website redesign as a one-and-done expense every few years.
Growth-driven design (GDD) takes the traditional approach and turns it on its head. This non-linear design strategy treats a new website like an evolving digital animal. Ongoing care and attention are needed to make a website grow, and continuous changes are spurred by constant evaluation of the environment.
Growth-Driven Design vs. Traditional Design
The traditional approach to web design is the standard that business owners think of when a website redesign is on the table. Either an in-house or outsourced design team conducts an analysis of your current website, changes are proposed and incorporated into a fresh design, and a new website launches and goes unchanged for a few years until the next redesign. Unfortunately, according to Hubspot, only 49% of website redesign projects finish and launch on time, and it's usually the traditional web design mentality that's responsible for delays.
The traditional approach is a high-risk budget drain that requires a significant up-front time commitment. By comparison, growth-driven design challenges traditional assumptions to help companies minimize risk and initial website launch expenses.
Traditional Website Redesign Challenges
A traditional website redesign begins with a thorough analysis and planning phase. Next, a team of designers implement a costly range of changes that span the entire site, and a brand new, completely redesigned website is launched. These changes are made in hopes that they'll stand up to digital marketing and visitor expectations as time passes, because a new website often won't be updated again until another redesign is proposed.
Traditional website redesigns are:
High risk

A large up-front cost

Significant time and resource commitments

Often run late and over-budget

Have unpredictable results

Instill a one-and-done mentality

Website becomes weaker over time
Growth-driven website redesign solutions
A growth-driven website redesign begins with the same type of analysis and planning phase as a traditional redesign, but the GDD approach allows room for incremental changes and budgeting as the year progresses. An initial launch pad site—a new website that's better than your current site but not perfect—serves as the foundation on which changes and data-driven improvements (based on buyer persona behavior) are made on a month-to-month basis.
Growth-driven website redesigns:
Minimize risk

Launch quick and improve

Launch on-time and on-budget

Are an investment spread over time

Implement data-driven changes

See month-over-month improvements
Website becomes stronger over time
Growth-driven design is a more predictable strategy in terms of budgeting, but the increased long term cost associated with GDD (given the nature of incremental changes over time) may be a perceived downside. Expect to spend twenty percent more for a growth-driven website redesign project than you would a traditional redesign, but you can also expect more than twenty percent back in terms of value and results.
Piece by Piece: Incremental Website Improvements That Adapt Over Time
It's important to realize that while growth-driven design is non-linear, a well-organized, long-term development plan is still the best way to ensure deadlines are met and changes have consistent value. You can use the following four growth-driven design phases to make the most of the GDD process for your website redesign.
1. Strategy Phase – Research buyer persona(s) to gather user behavior data.
The strategy phase begins the growth-driven design process. This is when your design and marketing teams create diverse buyer personas by researching how visitors currently use your website. Tactics like journey mapping and following the user through a sales funnel are good ways to form accurate assumptions about different buyer persona goals and conversion preferences.
2. Development Prioritization Phase – Use visitor data to prioritize website redesign changes.
The development prioritization phase is when your team will take the user analysis data and create actionable launch goals. To boost conversion rates, improve the user experience, and personalize the user interface are all great launch goals around which designers and marketers can create data-driven website changes.
Create a month-to-month development plan. The general objective should be to plan and build assets that improve upon your current website in ways that can be measured for impact. Think of the 80/20 rule when prioritizing which design assets are most important for initial launch—what 20 percent of design items will provide 80 percent redesign impact and value?
3. Initial Launch Phase – Build a launch pad site that can be improved over time.
The launch pad site is a new website redesign that's better than your current site but still not perfect. A launch pad site is a foundation for incremental changes. You'll use the top design items from the development prioritization phase to create the launch pad site, and over time you'll implement additional data-driven changes. This way, you can guarantee your new site launches on-time and on-budget without an outrageous up-front expense.
4. Continuous Improvement Phase(s) – Analyze data and implement incremental changes.
The continuous improvement phase(s) help ensure your website is always up-to-date and in line with current visitor expectations. Follow your month-to-month development plan to launch incremental changes, but also continue to analyze visitor use patterns, identify high-impact actions from data collected, and alter planned design changes for maximum impact.
Growth-Driven Design Builds Trust
First impressions of a company website are crucial. A study presented at the 2004 Conference for Human Studies in Computing Systems found that website first impressions were 94 percent design-related, and users were likely to mistrust a website source that used outdated or disorganized design elements.
Traditional redesign strategy leaves a new website open to unnecessary user scrutiny as time passes. Growth-driven design tactics are the best way to make sure your website redesign launches on-time, on-budget, and with a development plan in place for valuable data-driven improvements over time.