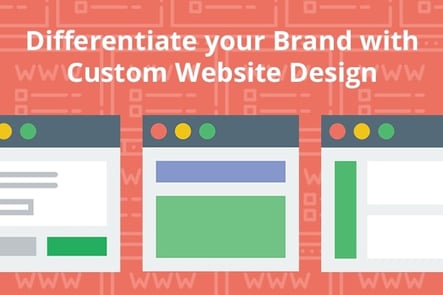 A few years ago, the web went through a growing phase where you couldn't navigate two links from home without being confronted by a bootstrap template. When they first hit, the smooth sections and popping icons of the default bootstrap layout were truly breakthrough in the way that they organized content. Then, for a while, it just became the internet as is.
Things have diversified since then. Templates have developed to the point where even major players on the web are comfortable turning to templates for their websites. Industry giants like Lyft and Wired both use a Squarespace-powered homepage, so it's clearly no mark of shame to think inside of the box for your business. Templates are cost effective, popular and functional. Tried and true templates never struggle with usability. However, the reality is that the bar is set high in terms of user experience on the contemporary web and it's impossible to compete with the lasting impression of an expertly crafted custom website.
A Look at the Greats
In terms of leaving an impression, Patron's homepage is a fantastic example of a custom website that makes a statement. Immediately upon entering, the user is confronted with an age verification form, but what should be a nuisance is instead a striking introduction, stark and elegant. A classic black and white theme with crisp typography overlays the faint image of a warm tavern. Once verified we enter a homepage checkered with vibrant and rustic imagery; scrolling down feels like turning a crystal glass of tequila from inside of a candlelit villa on the Pacific coast.
Spotify is another example of a custom website that makes a bold statement about its brand. Neon colors against clean white send off a dynamic electricity to accentuate a sleek functionality, simultaneously accessible, current and stylish. Headers pop up like drum kicks and the images of smart phones drift across the page like the slow resonance of a bass line.
Coming back to earth for a moment, to put it simply, user experience is really the major seller with custom websites. Part art, part science, UX design revolves around shaping your consumers experience with your brand through their interactions on the web. It makes the user become an active player in engaging with your content by inviting them to experience more. That kind of impression simply isn't available when turning to a template design for your brand and in terms of the kind of competition you're facing when trying to leave a mark in hyperspace, custom web design is worth a serious consideration when you're looking to be remembered.