2013 marked an evolutionary year in web design, marketing, and social media. These three markets are effortlessly intertwining with one another as branding and sales channels. According to Exacttarget's report marketing projections for 2014, the top five areas of spending will include data and analytics, marketing automation, email marketing, social media marketing, and content management. Whether it is the process and avenues through which marketers collect data on their audience, or how users are surfing the web and engaging on the web: data and mobile devices are more influential than ever.
Due to the growing percentages of mobile and tablet users, web designers will continue to produce the simplistic, flat UI of Microsoft and Apple iOS7 that debuted this past year. Additionally, instead of beginning with a desktop / laptop in mind, designers will now launch their creation process considering mobile devices and tablets first by utilizing cards, tiles, slide-out menus, and more.
Imagery is one of the most crucial points of branding and it doesn't stop with websites. The top designers are projected to roll out more and more image-centric layouts with larger backgrounds and video / animated backgrounds. Diving further into this trend, interactive infographics and parallax design are predicted to dominate the web backed by their incredibly visual aesthetics.
Marketing and Social Media 2014 Web Trends:
Google plus will be more popular than ever due it's roll out plus post promotions (similar facebook) compounded by it's current SEO boosting abilities. Spending on social media marketing is also projected to increase considerably in 2014:
Google Starts Testing Paid +Post Ads for Google+ Content With Launch Partners Toyota and Cadbury
Social Campaigns have only begun scratching the surface. Best practices and social media programs will become apart of every organization. "People trust people, not corporations" :
"Smarter" technologies derived from "big data"
Google recently acquired Nest a mobile application that gives you the ability to control the temperature in your house from your device. Simultaneously, it knows when you are home or away and adjusts temperatures accordingly in order to keep from wasting precious power. This decision was not only for the sake of acquiring streamline technology: it was intended to attract new users with the end goal of collecting copious amounts of energy data. Potentially this data could help fuel and improve energy projects across the United States.
Design 2014 Web Trends
Every marketing channel possesses the goal of the customer landing on their website. This is the most crucial element of the sales cycle: if your website is not engaging enough to convert, than your spend on any marketing efforts will be wasted. We have provided seven web design trends that will continue to overtake the industry in 2014:
1. Use of Flat, Simplistic Design: Apple iOS7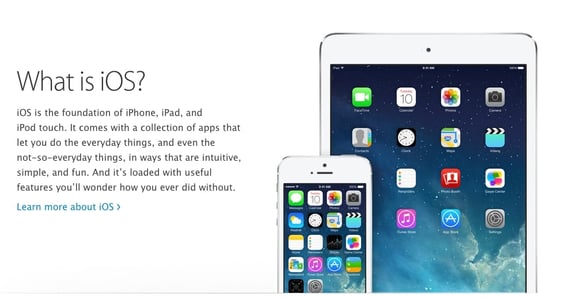 2. Infinite Scrolling: "If you look at our current homepage, our call-to-action is towards the bottom of the page, however we have found that most people scroll all the way down to click on the CTA and then fill out a form", says CEO Carl Widdowson.