Feel Like You're Organic Traffic has Plateaued?
It's Time to Think Inbound Marketing!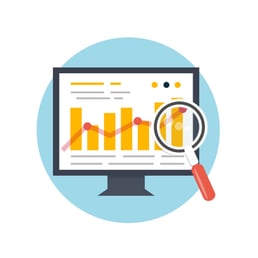 A healthy SEO strategy, executed to increase the quantity and the quality of your organic traffic is by far, one of the best things you can do to nurture your digital footprint. But getting stuck on "doing" SEO, or needing to "get more rankings" can ultimately cause you to miss your mark—which is to connect with your audience so you can allow them to do or get what they need, that you have.
Who cares if you are ranking for 100 keywords?! If none of those keywords see any search volume or have no relation to your conversion and business goals. This is where embracing SEO as a part of a greater whole becomes beneficial to your bottom line.
When we shift our focus from rankings, to targeting users with content, based on need, we go make a double espresso and lift our standing desks! This is where we generate, track, and learn from results. Our SEO process is holistic and thorough. By maximizing accessibility with full website optimization, developing goal-based SEO strategies and managing their execution, while being able to diagnose and resolve SEO conundrums to bring sites back to life, we are ensuring maximal organic presence. But when the inbound marketing methodology comes out to play, we get to turn all of that SEO content into lead nurturing candy. This is where SEO content goes beyond static downloads, and becomes assets that can be leveraged through all digital touchpoints. Now we aren't just creating content, we are creating conversion funnels and aligning them to search intent with psychographic insights and behavioral analytics data.
You see, SEO is about making the content your users need and making it accessible. SEO for Inbound Marketing takes us from just creating content based on user searches that signal needs, to taking one piece of content and turning it into four pieces of content that are strategically targeting your user personas at various stages of their buyer's journeys. With the inbound methodology, SEO is not just about optimizing, SEO becomes a chess game, one where we can attract visitors, convert them into leads, and nurture them into customers. The best part is, with software like Hubspot, and a process like ours, we never lose! We don't lose because we're arrogant, we say we don't lose because we test everything, and iteratively evolve to generate the results that fulfill goals and lift ROI.
Whether you come work with us to focus specifically on stabilizing the foundation of your organic presence, or you are at that point to take your SEO strategies to the next level, we will ensure that we are setting you up for success now, and into the future. Our results are lasting, proven, and repeatable.
Want to learn more about how SEO and inbound marketing can play together? Well then, don't click this button...