We'd Love to Optimize Your Entire Website!
Are you sure you've resolved ALL technical and qualitative factors affecting your organic rankings, traffic, and presence?
Our full website SEO optimization services provide you with complete and holistic solutions to resolve all technical factors that affect your search engine accessibility, so you can maximize your rankings. We optimize all pages, based on current rankings and current content!
Stop wondering if your SEO Consultant/Agency is doing everything they say! Provide your team with an actionable SEO to-dos that will help resolve all factors that affect your rankings and organic traffic and opportunities!
Our technical SEO services provide you with complete and comprehensive technical audits, action plans, and fixes, that ensure your site, presence, and content are working for you—and not against you. Automated auditors and SEO tools will often only crawl a single page, which is like the first sip of our morning coffee! Our commitment is to provide you with a comprehensive technical SEO solution for your website that will tell your team exactly what is right, and what is wrong with your technical optimization, and how we are going to make it all better.
All technical server-side issues that affect site speed and page load time and user-experience. Websites need to load content within 2 seconds. While we focus on this value for search engines, it's more about your user's experience. Think about it, how many times do you wait more than 4 or 5 seconds for a site to load, before you jump ship? Faster sites make for more traffic and rankings. We can help you guarantee your site is fast, and monitor it too. It's all about giving your the best chance to fully leverage your great content, and to earn your way to the top.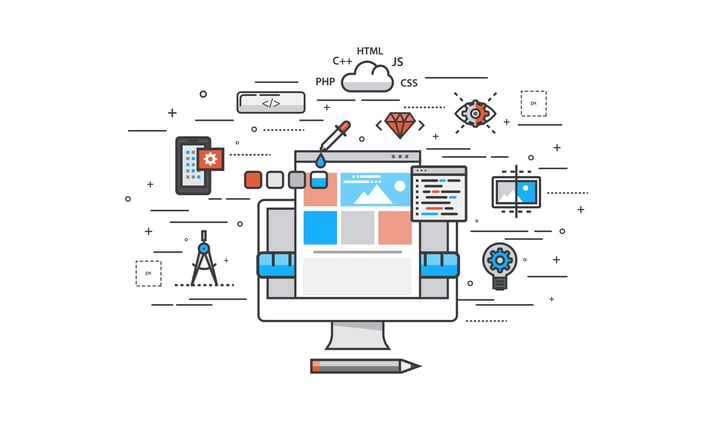 Check out the details of what encompasses our full website search engine optmization services.
Server Side Issues for Developers
All technical server-side issues that affect site speed and page load time and user-experience. Websites need to load content within 2 seconds. While we focus on this value for search engines, it's really a user value. Think about it, how many times do wait more than 4 or 5 seconds for a site to load, before you jump ship? Faster sites make for more traffic and rankings.
The repair report will breakdown all factors for your developers, so they can resolve all issues with an agile approach.
We also provide optimized images for all images on the site that need to be reduced in file size. This will save your team hours.
Website Accessibility
Search engine accessibility is the means by which a search engine can access, and then index, your content so it can rank. This also has a direct correlation with the human experience as well. A fully accessible site is one that allows all potential users, equal access to the the content that satisfies their needs. We analyze the technical and information architecture of your site. As well as the related SEO factors. You receive overall recommendations and action items based on discovery.
Domain Authority
If you know what PageRank is, then Domain Authority should be easy to understand. This authoritative value given to a website can inform us as to the quality of the site, in the 'eyes' of search engines. These are qualitative factors, as well as trust-based factors, that are a part of the algorithmic calculation. This value can be used to explain the health of your site, which means the health of your rankings. The higher your domain authority, you will see more rankings with top ranking positions. From our research, we will point out what could be hurting you and what you should do to resolve the issue(s).
Usability
The usability of your website is also an organic search ranking factor. This is a close relative to accessibility issues, however, this is directly related to how usable your site is for your visitor. Did you know that that ever-so-popular homepage slider is actually ignored by users most of the time? It creates a waste for space, and pushes main content below the fold.
Mobile usability warnings are now also being sent to website owners via Webmaster Tools (rebranded to 'Search Console' by Google in July 2015). We explore the major usability factors and provide you with recommendations on improving any and all issues we uncover.
Onpage SEO Factors
Of the 200+ (unknown) factors that go into Google's search algorithm, we identify nearly 75 factors related to the content on your site. Each are analyzed to provide you with recommendations and action items. These are the factors that relate to how your content is being indexed, displayed, consumed, and shared. This also dives into next generation SEO factors that are the basis of evolving search engines and content features.
Offpage SEO Factors
Like the Onpage factors, these Offpage/Offsite factors can hurt and help your organic rankings. These include values related to your competitors, brand, and market share.
Internal & External Link Health Analysis
While links are now slightly less important in the ranking algorithm, than in years past, they are still invaluable. Links signal value, trust, use, and authority. And where they can lift you into the sky, if manipulated, bad links can bury your site. We evaluate your historical links, and the past year, to determine your link health. You will either be assured, or warned. Either way, we will paint a picture for you to be able to visualize your link landscape, so you can make accurate and informed decisions on any recommended actions.
Local Networks SEO Audit
Whether you are a localized business, or an international brand, the consistency of your Name, Address, and Phone Number on profiles across Local Networks are a search engine ranking value. This helps search engines link data points together, and thus, those that are optimized see rewards with higher rankings. Further, reviews and ratings on these networks are very important signals for the types of sites people are likely to want to see ranking in their search results. We provide you with an audit of more than 50 local networks, along with actionable recommendations.
Social Media & SEO Analysis
Social signals are getting up there in value with linking signals. We look at your major social profiles to determine health, and if you are leveraging them as much as you should be, as they relate to supporting your organic rankings. This includes factors on your website, as well as things you are able to actively control on the social networks themselves.